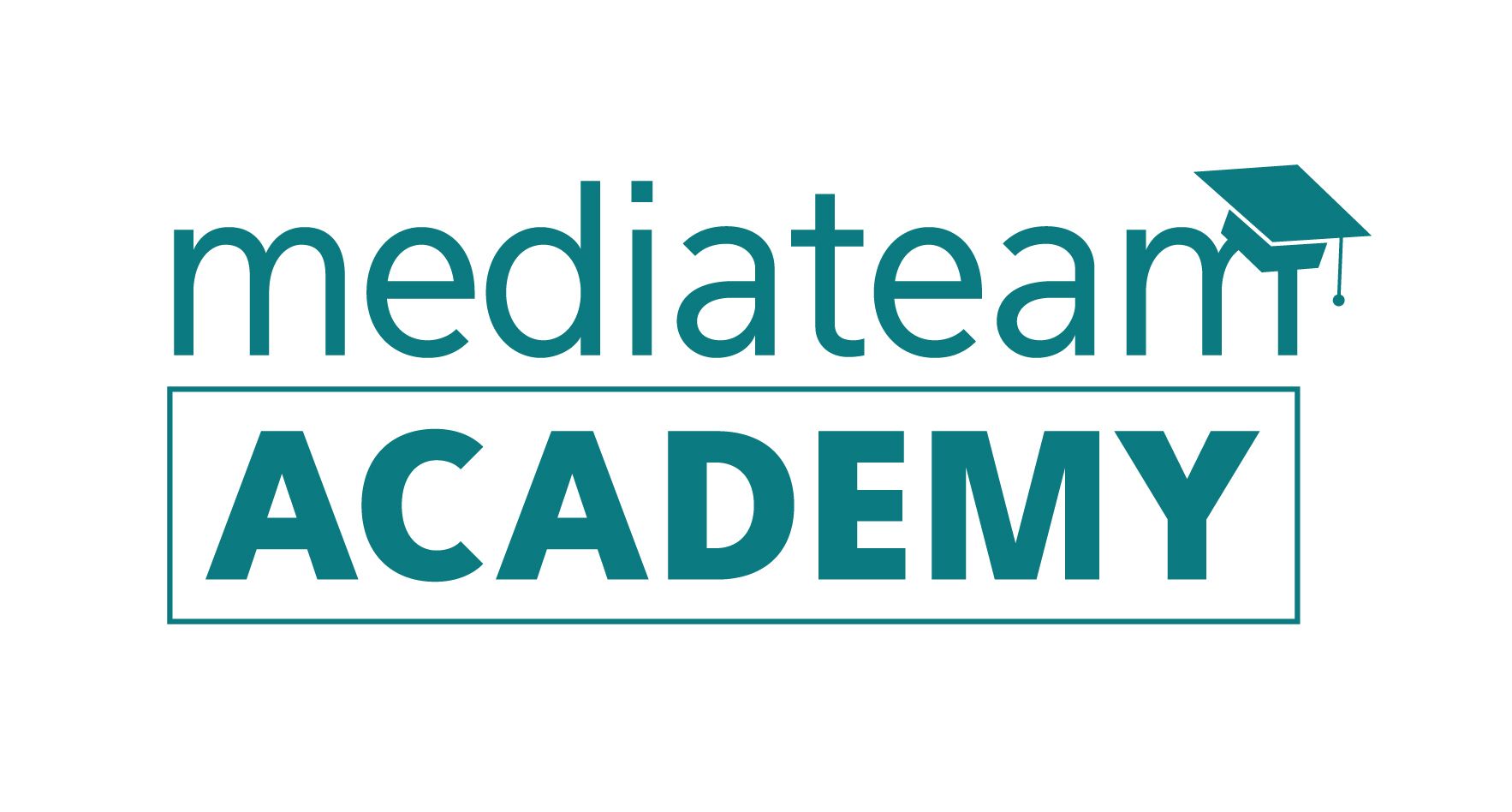 Welcome to
The Media Team Academy
#Read | #Watch | #Learn | #Improve
Let's work together.


Budgets are squeezed, channels are changing, and we live in an analytical age where there is greater interest in measuring the performance of the media team function.


Many teams are also now working remotely – or are taking a hybrid approach – which means they may have lost some of their visibility.


To counter these challenges and help comms professionals fulfil their potential, we are now taking applications to join the latest version of
The Media Team Academy.
Can anyone join The Media Team Academy?
The Media Team Academy is an exclusive community of comms professionals who want to improve and develop their careers.
During its first year, The Media Team Academy was joined by nearly 700 like-minded communications professionals from over 100 different organisations. And they came from a range of backgrounds, with department heads, comms directors, managers and comms officers among the ranks.

If you like the sound of the Media Team Academy and would like to to boost your development by learning alongside like-minded colleagues, contact us today about becoming an academy member, or complete the billing form below.

Continue reading below to learn about everything you'll get access to if you are accepted as a member.
Price: £795 + VAT


12 month rolling subscription
What is The Media Team Academy?
The Media Team Academy is a community of comms and media professionals, at different stages of their careers, who come together to learn, develop and feel inspired.
This programme is designed to support, motivate, and energise teams, so you achieve your targets and ambitions and prove your value.


For an annual price of just £795 + vat, your media team of up to eight people will get access to exclusive live video masterclasses, online courses and a hub of other resources and content.


Each month there will be a live masterclass led either by one of our current working journalist tutors, or by an an accredited Institute of Leadership and Management (ILM) tutor.

These will cover media and communication skills, techniques and ideas on how you can better support your business and push your career forward.

Our leadership skills and coaching techniques will help with daily tasks, such as giving feedback to senior leaders, managing your workload, optimising health and well-being, resilience and career progression.


You and your team will also have access to our online 'on-demand' courses, offering you the chance to learn something new or refresh existing skills – like making smartphone videos, or our new three-part crisis series.


And, as if that's not enough, new for this year our bespoke 'surgery sessions' will allow you to book a two-hour slot for you and your team with one of our media or coaching specialists. You can use this time to get expert advice and guidance on the communications and leadership issues that you are facing - more details below.


As always, Media Team Academy members will continue to be able to access a dedicated and growing resource hub packed with articles and downloadable content, such as message development sheets and media interview preparation guides.


And with access to an exclusive chat function that allows you to message and connect with other Academy members, you'll have advice and different opinions for your peers and our experts at your fingertips.
NEW


Ask the expert surgery sessions

We believe all comms professionals should have the best opportunity to thrive.
So, we've added a new feature for members of The Media Team Academy this year – Ask the expert 'surgery sessions'.

These are bespoke sessions you can use to probe the expertise of our journalists, communication experts and leadership tutors to overcome problems and nurture skills.

They are there to support, motivate, inspire and share insight and recommendations.

Each comms team will be able to book a two-hour bespoke session with our team.

Use it to pick the brain of our experts on your communications conundrums and challenges or leadership and management dilemmas.

Simply let us know how and when you want to use the session, and we'll find the right expert to help - consultancy without the cost.
Masterclass programme
We'll be continuing with our live media skills and personal development masterclasses where each month, we will run an hour-long high impact online interactive session.

Although best watched live - so you can get involved in the discussion and ask questions - we will also be recording them, enabling you to catch up later.


We want the Media Team Academy to be as interactive and beneficial as possible. So, you'll have the option each month to vote for what we cover in these masterclass sessions. Once again
, your input will be crucial to deciding what we cover, but here are
some of the initial topics:
MEDIA SKILLS MASTERCLASS PROGRAMME
Our specially selected team of working journalists and expert media commentators guide you through the media and comms issues you may be grappling with, including...
Media Skills Masterclass: Measuring the stuff that matters
How do you prove the value of your media work, campaigns and internal comms efforts?


Effective measurement is crucial for helping comms professionals understand their value and prove it to the c-suite.
And it is a vital part of comms planning, allowing you to better link comms aims to business objectives.
But knowing what you need to focus on can be tricky.
In this masterclass, we'll explore
Changing media consumption
Best practice in measurement
What success looks likes
How comms teams can prove their value in challenging economic times
Media Skills Masterclass: The power and pitfalls of broadcast PR
How can you make sure your campaign, new product or service reaches as many people as possible?

Broadcast media (TV and radio) reaches millions. But are they the right people?
If you want to reach decision-makers, securing a spot-on Radio 4's Today programme could be crucial.
But that won't always be the right audience.

How can you capture the interest of the right broadcast journalists for your message? And how can you ensure your spokespeople make the most of the opportunity radio and TV presents?


In this masterclass, we'll explore:
What you stand to gain by taking part in more broadcast interviews
Possible pitfalls and how to avoid them
What makes a great broadcast spokesperson
The importance of preparation
Creating strong messages for broadcast interviews
How to create opportunities


Media Skills Masterclass: How to write op-eds that will get published
So, you think you've got something interesting to say?
An op-ed can be a brilliant way of showcasing your expertise and thought leadership to millions of people. It can help you persuade, influence and change minds and hearts. In this masterclass, we will take you through everything you need to know to produce an op-ed publications will print.
We'll cover:
Why op-eds remain a great communication tool
The planning that needs to take place before you put pen to paper
How to structure your op-ed and what you should include
How to pitch your finished article

Media Skills Masterclass: Getting started with podcasting
Podcasts are booming.
Smartphones have driven a renaissance for the audio format, and businesses are turning to them to add variety and bring a human voice to their content and brand.

There are now more than 4m podcasts registered around the world. And there are around 19 million podcast listeners in the UK. Listener predictions suggest the number will reach 28m by 2026.

So, shouldn't podcasts be part of your comms and content strategies?
In this masterclass, we will look at:
What you need to know about creating a branded podcast
How you can make it stand out in a crowded marketplace
What makes a good podcast presenter
How to prepare your spokespeople to appear on a podcast



Media Skills Masterclass: Should newsjacking be part of your comms strategy?
Do you want to start conversations with new audiences?
Are you keen to be seen talking about key events and topical stories?
Maybe you want to secure coverage when you don't have a new product or service to discuss.

Newsjacking – the art of taking advantage of news and current affairs to promote your brand – is an increasingly crucial part of the comms toolkit.

In this masterclass, we'll take you through everything you need to know about newsjacking.
This session will include:
The brands that are doing newsjacking right
When you should use it and identifying the right angles for your brand
The importance of planning in being spontaneous
How to avoid alienating your audience in an increasingly divided world
The risks and when to avoid newsjacking
Is it worth the return on investment?

Media Skills Masterclass: How humour can improve your brand's social media
Should you try and make people laugh on your social media accounts?
Humour can grab attention and propel your content to a much wider audience – look at the success of brands like Ryanair, Paddy Power and Aldi.
But it can be a gamble.
Can you use humour without upsetting and alienating your customers?
In this masterclass, we will look at:
The rewards of injecting humour into your social media
Whether it works for all brands
The risks
Whether brands need to be as bold with humour as Ryanair
And how you can handle the social media trolls



Media Skills Masterclass: How to turn data into compelling visual stories

We are constantly producing data.

Clive Humby, the architect of the Tesco Clubcard scheme, famously described data as "the new oil."

And it is estimated each person on earth generates an average of about 1.7 MB of data per second – a figure that is probably hard to envisage.

That's a lot of information – isn't it time your business made better use of it?

In this masterclass, we will explore data visualisation and how you can incorporate data into your brand storytelling.
We'll look at:
How you can turn your data into infographics and sound-bites that you can use in your campaigns, internal comms, presentations and content marketing material.
Where to find data
How to uncover the stories in it
How to present data to different audiences



Media Skills Masterclass:
Stakeholder comms: creating clear, consistent messages across all audiences

Where do media relations and PR merge with stakeholder management?


Do you have a separate team managing stakeholder comms?

Or is your team responsible for communicating with internal stakeholders (staff), investor relations, volunteers, customers and member organisations?

How can you ensure your messaging is consistent across all teams?

Should you communicate with stakeholders before the media?

We all know it's best to target your content, message and tone to each specific audience.
But this is challenging when time is short, budgets are tight, and resources stretched.
In this masterclass, we will look at:
The importance of audience profiling
How surveys and questionnaires can help you ensure you are communicating effectively with each audience
The question of timing and defining a clear company-wide process


PERSONAL DEVELOPMENT MASTERCLASS PROGRAMME
Our personal development programme is designed to develop talent, inspire fresh ideas and help you overcome personal obstacles and challenges, all under the guidance of leadership and management coaches from The BCF Group.
Personal Development Masterclass: Mental well-being at work
How big is your 'to-do' list? Working in comms, it is probably pretty long.
But you can't afford to let your mental health – and that of your colleagues – slip down the priority list.

In this masterclass, we will explore how we can all better look after our mental health. And how we can help others.
The session will include:


Warning signs you or someone else is struggling with their mental health

The impact of poor mental health on absenteeism, morale and engagement

Attitudes to mental health

Building personal resilience

The boundaries for managers in supporting the mental health of their team members


Personal Development Masterclass: How can you conquer imposter syndrome?
Do you find it difficult to share your thoughts and opinion in meetings?

Do you feel uncomfortable sharing your comms expertise with senior leaders?

Maybe you feel you are overachieving and are waiting to be found out.

Feelings like this are not unusual. We all suffer from them from time to time.
But how do you overcome them, stop them from becoming persistent and prevent them from holding you back?
In this masterclass, we will explore:
How you can overcome your imposter syndrome
Helping others in your team who suffer from it
And how you can help your media spokespeople overcome imposter syndrome


Personal Development Masterclass: How can you become a better public speaker?
Who likes public speaking?
For many of us, it is the stuff of nightmares. Our hearts race, palms sweat, and there's a horrible feeling in the pit of our stomachs.
But virtually all of us have to present, pitch or give speeches as part of our jobs. So, wouldn't it be better to feel more confident and be a braver public speaker?
In this masterclass, we will take you through everything you need to be a better presenter, whether it is face-to-face or online.
We'll cover:
How you can build your confidence, overcome stage fright and control nerves
How to structure and prepare your presentation
How to grab your audience's attention
How to use stories and anecdotes to compel and persuade your audience
The question of questions – dealing with unexpected and awkward audience questions

Personal Development Masterclass: Your essential guide to change comms
How good is your organisation at communicating change?

People hate the word 'change'. There is the fear of the unknown.
There can be feelings of defensiveness about why the old way is no longer considered good enough.
And people worry they may not have the skills and competence for the new way of working.
There is also often a feeling that change leads to more work. And this makes communicating change a tough challenge.
In this masterclass, we'll explore:
The myths surrounding change
Whether there is a risk communication of relatively minor changes can make them feel huge
Change communication theory and techniques for reducing resistance to change
How and why you should communicate change


What else is included in your subscription?
Online, on-demand, training courses
Academy members also get access to our online, on-demand, training courses (normally worth £195 each). These are available whenever and wherever you need them and can be completed on a PC, Mac, Tablet or Smart Phone.


As part of this subscription you and your team will each have access to nine additional online courses.
You can use these to refresh your presentation skills, learn how to make brilliant videos on your smartphone, or discover more about writing engaging content. The choice is yours.

The choice of courses already includes those below, but we are also working on more which will be released to academy members as they become available through the year.


Media skills (refresher)

How to film and edit like a pro on your mobile

Essential crisis management

Identifying positive media stories

Presentation and personal impact skills

How to write engaging content

Three-part crisis series
Academy resource hub
You'll also have access to a dedicated academy resource hub.


Here, you can take your pick from more than 80 learning resources and communication aids to support your development and help you tackle everyday tasks.


The hub is constantly growing and is packed with eBooks, webinars, downloadable templates, case studies and blogs.
Collaborative community
As an academy member, you'll have access to a chat function that allows you to ask the group – including our experts - anything.


What does this mean? Well, if you need some advice from someone outside your organisation about a particular topic or challenge, then why not ask a peer on the chat.


We can't promise you'll get the answer to everything, but sometimes just having someone different people to run an idea past can make the difference.
Guaranteed Security using one of the most advanced encrypted systems on the market.
The information in this page is being processed and encrypted securely using industry-leading encryption and fraud prevention tools.
Frequently asked questions
When does the 12 month subscription start and end?
If you pay on credit card your recurring 12 month subscription will begin immediately and you will have access to all courses.
We will contact you to request the details for the other members of your team. We will set up all other members of your team as soon as you provide these details.

If you arrange to pay by invoice, we'll contact you to ask you for the details of your other team members and when payment is received we will set everyone up and email you the access details.

Your 12 month subscription starts on the day we email you the access details and ends 12 months later.
Can I pay by another means and not credit card?
Yes. If you'd like to pay by invoice and purchase order, please contact us on
[email protected]
and tell us about your business, your team and the sector your work in.
We'll get back in touch with your next steps.
What if we have less or more than 8 people in the media team?
Membership to Media Team Academy allows you to give access to up to 8 team members.
The price remains the same even if you have fewer team members.
If you have a larger team please
get in touch
to discuss your requirements.
If I sign up am I guaranteed membership?
Not necessarily.
We want to ensure that we build a collaborative and supportive community that represents a broad spectrum of industries, skills and experience levels.

So, for example, if we find we have too many applications from one sector then we may choose to withhold your enrolment and will issue a full refund.
How many users, online courses, masterclasses and surgery sessions will I get during my subscription?
One subscription to The Media Team Academy gives up to eight members of your team access.
Each member will also receive access to an additional nine relevant online courses from our range.

We will deliver twelve media skills or personal development masterclasses across the twelve months of your subscription.

All surgery sessions are two hours long. These can only be used once during your subscription. Only signed up members of the Media Team Academy may attend these sessions.

You do not have to use the full two hours, but we are unable to break the time down into smaller chunks.

Once booked, time slots can not be rearranged.
How can I book a surgery session?
Use the 'Ask the expert – surgery sessions' link to request a date and time for your two hour group session. We'll review our expert's calendar and will confirm with you.
You can only book one session per calendar year and once you have confirmed your time, this session is unfortunately not changeable.

We much prefer to use Zoom for these sessions, but if your organisation can only use Teams then this will be possible by prior arrangement. Simply book your slot as usual and we will make it work for you.

We will contact you before the session and ask you to provide some more details on how you would like to use the time. At this point you will be able to send us any supporting information that will help us prepare for the session.

These sessions are designed for Media Team Academy members only and therefore can be attended by up to 8 of your registered team (per subscription).

If you would like to take advantage of this feature, your two hours must be used during your subscription year and cannot roll over.
How do I cancel my subscription?
If you paid by credit card on the site, you have chosen to take out a 12 month rolling subscription.
Your subscription will be automatically renewed after 12 months

We will email to confirm your subscription renewal and you will continue to enjoy great value for money from the growing library of resources.

You can cancel your subscription at any time through the 'My Account' menu.